Classwork
News of the day
Document Analysis
Teamwork and projects
Conversations and Role Plays
Games
Songs
Fun Hour (every other week) if you behave yourself
Working in islands/stations
Classwork in details
News of the day : 
15 News/term : 20/20
12 News/term : 18/20
10/news/term : 16/20
This grade counts as a bonus.
Genius Hour
During genius hour, you work on a project that you like and learn English at the same time.
Here are some examples of what was done during Genius Hour :
https://www.instagram.com/waves.rider.morocco/
https://web.facebook.com/MoroccanHorsePower/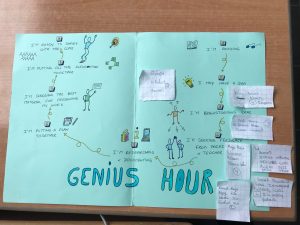 Entering English Class
Stand up
Keep quiet
Put all you need for English on your desk
Sit down when asked to
One of you write the date on the board
Politeness & Respect
– Say hello when you come in class and good bye when you go out. This is just being POLITE and not being a teacher's pet ;
– Respect everyone & respect their belongings (including the school's equipment) ;
– Don't make fun of people,
– Don't bully others,
– Don't talk when somebody else is talking…
– Raise your hands before talking
– Ask for permission before going out.
– Keep the room clean
– Push your seats under the desk before  leaving
Attendance & late Arrivals
You are expected to be in class on time every day.
As mentioned in the school rules : you are given a 5 minute passing period. If you are less than 5 min late, you need to get a tardy pass at the vie scolaire, if it is more than 5 min, go to the study room.
If you are absent, you are responsible for making up the work missed. It will be written in pronotes. You just need to login online.
To bring or not to Bring
Bring
Pen,
Paper,
Binder / Notebook,
English Book
Never bring
Food incl. gums, candies…
Cellphones (or turn them off)
Drinks in class unless authorized before
Missed Assignment
Assignments need to be submitted on time.
For each day an assignment is late, 2 points will be deducted. And a very good excuse should be given. After 3 days, the assignment will be graded 0/20.
After 3 days, you can still submit your work but for feedback purposes only.
For all sorts of issues
Any kind of problems (including lack of work) will end with some sort of consequence & luckily I have both imagination & creativity eg:
Calling / Meeting the parents (and/or)
Extra homework (and/or)
Report to the class teacher and the principal (and/or)
Detention hours with extra work
and I don't even mention the many other ideas I have…
Common European Framework of Languages
| | | | |
| --- | --- | --- | --- |
| Grade | LV1 | LV2 | LV3 |
| 6ème | A1 | A1- | |
| 5ème | A1 + vers A2 | A1 | |
| 4ème | A1 + vers A2 | A1 | A1- |
| 3ème | A2+ vers B1 | A2 | A1 |
| 2nde | B1 | A2+ | A1 |
| 1ère  | B1 vers B2 | B1 | A2 |
| Terminale | B2 | B1 | A2 |
Grades
Skills
Reading : CE
Writing : PE
Listening : CO
Speaking : PO
You'll be assessed in :
Quizzes
Exams after each unit
Listening practice tests
Speaking practice tests
Teamwork/Projects assessments
Notebook grades
You are responsible for logging in pronotes to check your grades.
If one is not correct, tell me ASAP.
Changes will not be made 8 days before the staff meeting («conseil de classe»).
Advice for English Class
In Class
Speak in English
Speak in English
Speak in English
Speak in English
Speak in English
Speak in English
Speak in English
Outside of Class
If you see me, speak with me in English only
Keep a notebook of new words ;
Watch movies, series and read books… in English version ;
Listen to songs in English and transcribe the lyrics…
Surf the web, write blog entries or chat in English, visit anglaisbac.com regularly.